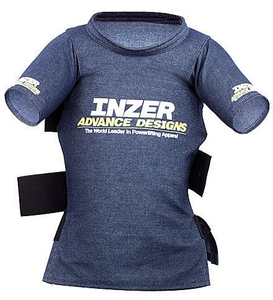 Excellent support in heavy denim material provides easy on/off fitting and stiff type support. The Standard Denim is an excellent bench press shirt for the denim preference. Heavy construction will provide you with long wear and results. 
The special denim used is the preferred denim by most all of the world record breaking bench pressers who used denim shirts.
The Standard Denim is the moderately balanced choice of arm tilt and Radicallness™ for the majority of users of denim bench shirts.
It is easy to learn the use of denim type bench press shirts with the Standard Denim which provides an excellent value.