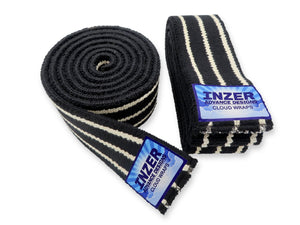 New Comfort and Support describes Cloud Wraps best. So supportively comfortable it's like squatting on a cloud!
Comfy, plump, woven yarns create a pillow effect around and behind the knees
Super supportive thickness with just the right amount of wrap compression
Easy to put on. Pull to full tightness when you desire, or wrap snugly to your preference
The most comfortable supportive wrap ever made!
Users of Cloud Wraps say it's like squatting on a cloud

For the athlete who wants a balance of support, ease of use and comfort.
Suitable for training and competition performance!
Note to Powerlifters: Inzer Cloud Knee and Wrist Wraps are accepted in all powerlifting everywhere including IPF official approval. Formerly known as IronWraps A, Cloud Wraps are now available again. This unique wrap was a favorite of many competitors and is now relaunched as Cloud Wraps, after having been unavailable for several years.