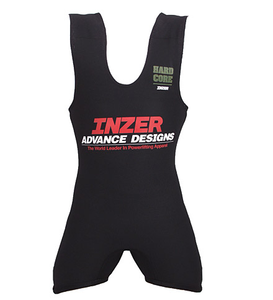 The HardCore squat suit continues to be a best-seller, and a favorite of many aspiring powerlifters as well as seasoned powerlifters worldwide. The HardCore was the first mega step up from the classic suits of powerlifting. Very durable, long lasting. Conforms well to various squat styles.
HardCore material has the most rebound power of any power material.
HardCore has a definite stopping point after coil, then rebounds to full return.
The HardCore is designed by the powerlifting gear experts and is patented with two U.S. patents.
New CoreLock™ prevents slipping of the legs without constricting your thigh. (leg slippage is a major cause of slack in butt area in other brands).
Squeezes the body like a powerful wrap, ensuring support even in the top range.
The perfect amount of non-stretch and rebound combination.
The design and thickness of material provides a level of comfort that, until the HardCore, has been a non-existent feature of squat suits.
HardCore material is over 40% heavier than the closest fabric on the market.
Compared to the HardCore, a competitor's attempt at a stepped-up fabric is so light weight you can see right through it. (Instead of paying their "premium" price for a lesser suit, consider the proven, world-record-breaking Champion and Z Suits are a much better price and value).
HardCore material was engineered and created to exact specifications for powerlifting gear. This is a first in powerlifting.
A true powerlifting gear investment and long term savings. Up until now squat suits have been a replaceable item. Now with the HardCore, you won't need another suit until you change weight classes.
Does not sag or get baggy in the butt as is known of a competitor's attempt at a "premium suit". Only HardCore has Memory™ which retains its shape and power after every use.
The largest research and development production ever in powerlifting gear materials technology. Only Inzer Advance Designs could bring this new evolution to the powerliftng world.
Built for all squat stances and styles. After you pull the crotch up and secure the HardCore legs in place, the CoreLock™ will help your legs stay firmly planted whether you use wide stance, ultra wide or close.
The bottom line: When fitted properly, you will squat significantly more in a HardCore, over a longer time and with more comfort and safety. You will move the increased poundages with greater ease than ever before!