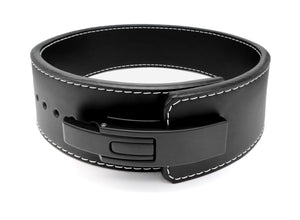 Top performance combined with luxury comfort, the Maestro Power Belt by Inzer has it all. Pre-conditioned for the perfect feel from the beginning, through every workout and competition thereafter! Plus, with the exclusive Always Guarantee™ you can count on the Inzer Maestro Power Belt to be there for you in all your power, strength and fitness endeavors!
Powerful support with built in comfort for the most pleasurable lifting
Luxurious, smooth leather on both sides feels good to the touch and easily stays clean
Equipped with patented, matching black Lever Buckle
Precision Crafted, including corrosion-resistant, heavy duty white contrast stitching
Contoured edges for additional comfort detailing
Each Maestro Power Belt is a precise 12.5 - 13mm thick, crafted with leather that's hand-selected for that perfect zone of performance and excellent comfort

Super value. The upmost quality at an incredibly low price point!
Inzer Belts are renowned worldwide as the finest of all power belts, and worn by strength, fitness and power enthusiasts and professionals everywhere. For Powerlifters, the myriad varieties of Inzer Belts, with levers, buckles and ratchets, are all approved and worn in ALL Powerlifting organizations worldwide.