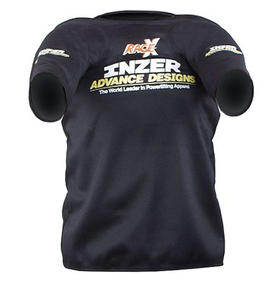 The newly improved RageX is the sensational shirt that's helping powerlifters sweep the earth with massive bench presses. The RageX is a step above all round-sleeve, stiff-poly bench shirts in clear Performance and Quality.

Extra Reinforced front shoulder seams add support and security for this radical design. Thicker, Extra Reinforced neck. 
The combination of several new contours built into the pattern complements the already super RageX system.
SOLID SEAM™ technology keeps the sleeves where they are supposed to be, working in unison with the body, not jittering or faultering with the bar. You will increase your bench press and keep it safe to boot. Proven in numerous world records.
RAGE X IS FOR EXPERIENCED BENCH PRESSERS ONLY PLEASE! RageX goes into new territory where unbelievable results from a poly shirt happen. The RageX will continuously amaze you at how much you can bench press. Bench pressers report regularly how much fun the bench press has become for them because of this amazing bench press shirt. The increased weight you will bench press will take practice to become accustomed to. Strength gains will result from handling the increased weight. Confidence will rise from one training session to the next.
The RageX is the bench shirt for those who want an immediate step up to stratospheres of bench press power because it is a MORE AGGRESSIVE design than any other company knows how to make. This is not only about sleeve angle and elementary things such as that. It is about hundreds of details creating a cumulative effect that is undeniably the best. The most Quality and Results are yours in the RageX.
Stretchy-Back™ makes RageX more effective and easier to get into. It allows the lifter to custom-fit on the spot by allowing the neck to be lowered down the body and the sleeves to be lowered down the arms. The fitting adjustments allowed by the Stretchy-Back™ provide the effect of an Open-Back but with a back that is completely enclosed. The Stretchy-Back fabric also breathes easier, creating comfort.
RageX in DOUBLE LAYER. Go Double Layer and increase the longevity and comfort of the RageX bench shirt. Or choose Single Layer for single-layer competition restrictions.
Guaranteed. Absolutely guaranteed you will bench press more than in any other round-sleeve bench shirt.