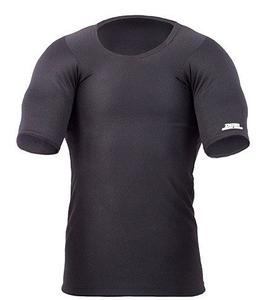 Based on the original, legendary design. Made of unique material found in no other shirt. Many experienced athletes still prefer this bench shirt for supportive protection. Unbeatable value and price.
Unique, long-rebound material will provide you with long range-of-motion support. 
Relatively comfortable compared to other shirts.
Is forgiving in its shape which will give you room to grow and provide flexibility in your form. 
Will provide you with a low cost training shirt that is also functional for any level of competition. Standard Blast Shirt is preferred by many for its unique qualities, and it makes a good entry-level bench press shirt. Used by many as a great aid in injury prevention and healing while still training, and as a budget friendly bench shirt for high school powerlifters who are just starting to train.