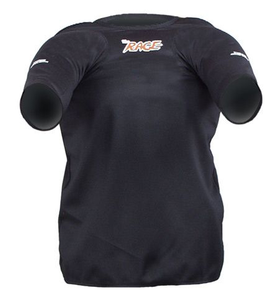 The bench shirt that's storming the globe! The Rage is a superior bench shirt, giving you the biggest bench possible at an unbeatable economy price, guaranteed! 
The Round-Sleeve™ design is very user-friendly because it accommodates many benching styles. 
Stretchy-Back™ makes The Rage more effective and easier to get into. It allows the lifter to custom-fit on the spot by allowing the neck to be lowered down the body and the sleeves to be lowered down the arms. The fitting adjustments allowed by the Stretchy-Back™ provide the effect of an Open-Back but with a back that is completely enclosed. The Stretchy-Back fabric also breathes easier, creating comfort.
SOLID SEAM™ technology. The construction and stitching on The Rage is superior. The Rage seams lay flat which eliminates the digging into your skin that regular commercial seams do. Regular commercial seams are intended for fast-sewing efficiency to save on labor cost, and for loose-fitting, mass-produced T-shirts, not for Bench Shirts. Inzer Advance Designs, the originator of the bench shirt, has always been the forerunner of bench shirt technology and construction. The most important thing the Solid Seam™ does is it eliminates the erratic bar wavering that another's shirts cause. Instead of the quarter-inch of open play between sleeve and chest-plate the pinched commercial seams create, the Solid Seam™ locks all parts of The Rage together making it so solid it might as well be welded together. The differences are sometimes subtle but when all these factors are added together it makes a big difference. These reasons alone would make The Rage the best Round-Sleeve™ bench shirt in the world, but there's much more The Rage offers for big benching.
Reinforced thicker neck. No cheap, flimsy "low profile neck" here. The thicker neck on The Rage creates more support for explosiveness off the chest.
Material. The Rage is made from the strongest non-stretch materials in powerlifting. The Rage material is chosen from select stock ensuring the least stretch on the market for non-stretch's unique effects plus it has a quality of super rebound which is unusual from a non-stretch material.
Guaranteed. You will bench press far more AND save cash in The Rage than any shirt the competition is furiously trying to get you to buy. If you are not completely amazed with The Rage, simply return it for exchange or refund. We know you will love the fantastic increase to your bench press!