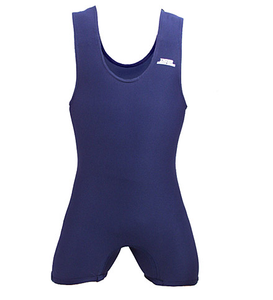 The legendary Z Suit provides fantastic support and excellent value. Now updated for even more power.
The patented Z lock secures the leg of the suit strongly so that it doesn't slip up. Other brands of suits slip, causing vertical slack in the buttocks area.
Symmetrical body-sweep helps prevent suit slippage over torso during the lift (a common cause of balance loss).
The version 4.0 Z Suit provides even stronger hip support than before.
More effective design and support than a competitor's "premium" poly suit at less than half the price.
Flex stitch on the crotch helps prevent blowouts by spreading the stress points and moving with the action of the fabric.
Straight zig-zag stitching as used in other brands does not do this which causes high stress points where the thread meets the fabric.
Z Suit, along with Champion Suit, is the longtime favorite of powerlifters worldwide.