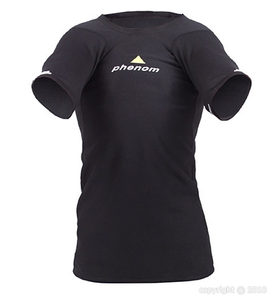 The Phenom is an extreme top-end bench shirt that will provide you with phenomenal bench press performance, features and power. Made from the legendary HardCore material. The only technology of this kind, the Phenom will provide you with incredible power off the chest through the mid and top range of motion and it will keep this power; lift after lift, competition after competition.
Features the EVS (Escape Velocity System) built inside. EVS is one of the newest additions in technology brought to you by the originator of the bench shirt, Inzer Advance Designs.
EVS technology spreads the stress and creates added thrust™. The EVS also works with your lower pectoral region for explosive starts and easy mid-range power surge.
The design provides flexibility for your arm angle preference and bar placement, whether that's elbows in, out or in between; low, high, or mid chest range. Will enhance your bench press form, not limit your form.
Made from the exclusive HardCore material which will provide you with the most incredible rebound power available in the powerlifting world. HardCore material is also up to 40% heavier than the closest fabric on the market being used for powerlifing gear.
Since the Phenom is made from the HardCore material, you will also experience many more performance benefits than you would if this great design were made with a lesser fabric. The Phenom will keep it's memory and will not stretch out as is known of a competitor's attempt at a high performance shirt. You will be able to use the Phenom for countless workouts and competitions in the future. It's a true investment in powerlifting gear.
The material of the Phenom has the perfect balance of non-stretch and rebound combination which will provide you with incredible power and momentum from start to lock out.