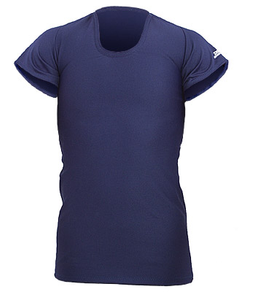 HD Erector™ provides firmness with the right amount of rebound to help you achieve explosive deadlifts and stable, upright squats. Used properly it's like lifting with an extra erector muscle.
The HD Erector Shirt™ is constructed using the same HD material used in Z Suits and Champion Suits.
Adaptable to any lifting form.
Excellent durability and value.
Designed to increase your deadlifting power and help keep your back erect during the squat.
Can also help to correct back position during the squat.
Saves valuable energy during the lift that could make the difference in completing all attempts.
Can increase the overall poundage you lift.
Note about Sleeved and Sleeveless Erector Shirts: Erector Shirts™ with sleeves or without sleeves now are accepted in all IPF and IPF affiliated competitions. Everywhere else, both styles have remained acceptable. Sleeves provide some extra effect to the intended design while sleeveless provides the coolness and free arm feeling associated with a top with no sleeves. Either design is an excellent choice.