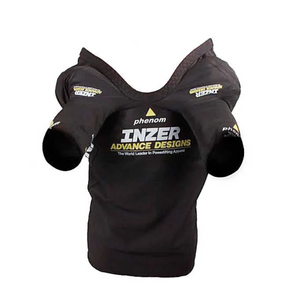 SDP (Superduper Phenom) is recognized worldwide as the pinnacle of extreme bench pressing equipment. For pro level Multi-ply Powerlifting. This is the best of the best that the majority of Multi-ply world records are performed in.
Super Neck™ constructed of multiple layers of HC (HardCore) material, integrated with the exclusive Diamond Stitch™ that moves with the expansion and contraction of the shirt
Double layer front and sleeves made from HC material that was engineered specifically for powerlifting gear
Very low-scooped neck connects precisely with the centerline of strength into the sleeves forming a super power band
Complete Open Back with 2 strips of strong Velcro
Round Stitched™ sleeves provide easier fitting and added performance
Super Reinforced front shoulder seams
Official IAD emblems


The SDP is recommended only for experienced powerlifters, or for those who are willing to learn the use of this fascinating bench press shirt. Expect several workouts to learn and break-in the SDP properly. 

Sizing: Measure around both shoulders to get shoulder circumference and add 4. For example: shoulder circumference 50" + 4 = size 54 SDP. A few powerlifters are able to fit into a size smaller but only after previous experience in the SDP.

The construction of each SDP is a complex and intricate process so please expect a 2-3 week manufacturing time before shipping.

Available add-ons: Grid Stitch™ front adds stiffness, however most bench pressers like the SDP without Grid Stitch™ to get the full range support the SDP gives. Grid Stitch™ is usually not recommended unless your arm length is relatively short, because the Grid™ lessens the unique rebound that's made the SDP famous. Concerning layers, most bench pressers prefer, and have achieved their best benches in, double-layer. However triple-layer is available for those who want to try it. Keep in mind that the Super Neck™ and Super Reinforced sleeves are where most of the energy is stored that provides the amazing bench press increase.